Looking for a unique summer day out experience in Ireland? Forget beach getaways and expensive theme parks. Instead, discover a city renowned for its old-world charm, medieval history, stunning architecture, and rich cultural heritage: Kilkenny. 
Ready to explore the medieval city with your little ones? In this article, we list down 8 fun travel ideas in Kilkenny City Centre that you and your kids will never forget. 
1. Have a picnic at Kilkenny Castle and Grounds
Kilkenny Castle, the heart of the medieval city, is a perfect attraction for families with kids. Over 800 years' worth of history is stored and preserved in the 12th-history castle, which was built as a fortress of the town against invasions. Today, the castle features exhibitions that focus on Irish history, arts, and crafts. 
Even without a castle visit, you and your little ones can have a great time for free. The majestic castle built in 1195 has a sprawling parkland and garden, open to the public. Here, you can spend time having a sumptuous picnic, taking a stroll along the walking trails, admiring the rose garden and man-made lake, feeding the ducks, and playing in the playground. 
2. Check out Medieval Museum at St. Mary's Church
After your castle visit, head towards the heart of Ireland's Medieval Mile: The Medieval Museum housed in St. Mary's Church. The museum might be small but it's packed with artifacts that'll help you dig deep into the 800 years of Kilkenny history under one roof. 
Discover Medieval treasures that showcase the craftsmanship, artistry, and detective work done by archaeologists and historians. These include the Celtic crosses (replicas of some of Ossory High Crosses), ancient local manuscripts, stone carvings, and unearthed physical remains of people who walked the streets of Kilkenny centuries ago. 
3. Book a family-friendly hotel in Kilkenny
Planning to stay in Kilkenny for more than 24 hours? While there's a wide array of accommodation options in Kilkenny, not all of them are suitable for your family getaway, especially if you're looking for a place that goes beyond comfortable rooms. 
If you're staying in a hotel in Kilkenny, look for properties that cater to families. Family-friendly hotels usually have bigger rooms, interconnecting rooms (for groups), free access to cots, baby-changing facilities, a kids menu, and kid-friendly amenities. They also offer attractive family packages that come with the room rate. This Kilkenny hotel, for instance, offers a "picnic in the park" package which includes freshly-made picnic meals, a homemade bag of seed mix for duck feeding, and a Kilkenny walking guide. 
4. Have a delicious meal on the Medieval Mile 
Kilkenny's Medieval Mile isn't just home to historical attractions but is also composed of amazing restaurants, cafes, and gastro pubs that suit your taste and budget. These include Zuni Restaurant, Statham's by Pembroke Kilkenny, Bridies Bar and General Store, Canal Square Cafe, John Street Tea Rooms, and more. 
For dinner, you can find a plethora of restaurants, which tend to be clustered between High Street and St. Kieran's Street. You can choose from traditional pub food, modern Irish fares, Italian, and more. 
5. Join a guided walking tour
Your Kilkenny City family getaway will never be complete without exploring the Medieval Mile, a discovery trail that allows you to step through the centuries. The Medieval Mile links the grand Kilkenny Castle and St. Canice's Cathedral, with lots of spectacular sites in between. These include historic buildings, well-preserved churches, abbeys, museums and art galleries, cobbled streets, and hidden alleyways. You can download a map and audio tour to have a self-guided tour at your own time and pace.
If you want local expertise, you may choose to have a guided walking tour (Kilkenny Walking Tours). Take your pick from free or paid options, with rates available for adults, seniors/students, and families. During the tour, our friendly and experienced guides will take you through the must-see heritage sites, hidden streets, and laneways.
6. Or take the Kilkenny Road Train
Did you know that Kilkenny city centre has a quirky road train? Kilkenny Road Train resembles the long-gone steam train. It offers more fun and memorable way to explore the city, not only for kids but for adults too. 
So sit back and relax as the train crosses the city and takes you to all of the main attractions including: 
Kilkenny Castle

Kilkenny Courthouse/ Grace's Castle

Rothe House and Garden

Smithwick's Experience

Shee Alms House

St. Canice's Cathedral and Round Tower

St. John's Priory

The Bishop's Place

Butler Gallery

Thosel Town Hall 
You can hear all about the sights on the fully-narrated tour. You can also sing along to several favourite traditional songs played onboard. 
7. Meet the lovely creatures at National Reptile Zoo
If your kids love animal encounters (and aren't scared to meet some scaly. cold-blooded species), National Reptile Zoo is one extraordinary attraction to include in your Kilkenny itinerary. Ireland's only reptile zoo is home to a wide variety of reptiles, amphibians, and invertebrates, who are displayed respectfully in naturalistic environments. Visitors will have the chance to hold and touch these amazing creatures. 
National Reptile Zoo aims to increase one's understanding of nature and its conservation by engaging with its visitors through educational, informative, and interactive displays. 
8. Looking for more adventure? Go to Kilkenny Activity Centre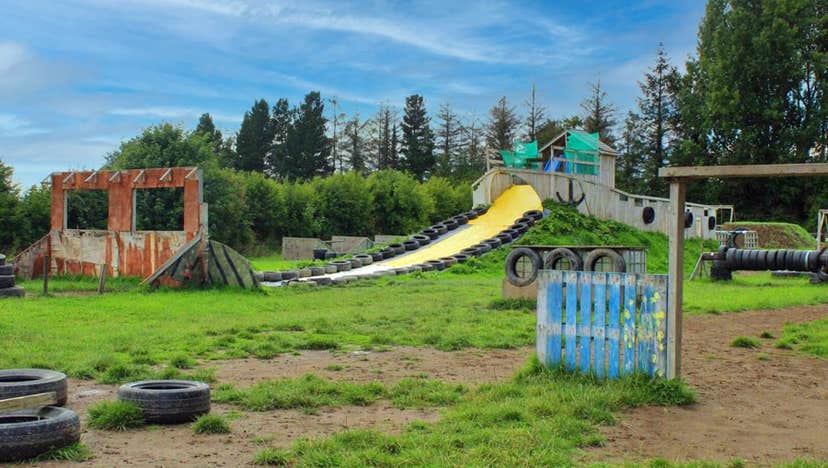 Not looking for chill day-outs, like park picnics and sightseeing? If you seek heart-pounding activities in the medieval city, the Kilkenny Activity Centre is the best place to be. The activity center features outdoor and indoor recreational activities for visitors of different ages. These include paintball, splat ball, giant Darts, bubble football, treasure trail, and an escape room. 
Author Bio:  Carmina Natividad is a travel-savvy blogger, foodie, and musician. When she's not playing the piano, you can find her writing articles about travel and lifestyle. She is also a passionate writer for Pembroke Hotel Kilkenny, a four-star boutique hotel in Kilkenny, Ireland.